If you use Basecamp as a project management tool, you can easily integrate it with Everhour and start tracking time for all your Basecamp to-dos on our website or right inside Basecamp interface with the help of our browser extension.
How to connect
There are 2 ways to connect Basecamp to Everhour.
First, you can connect your account to the signup. 
Second, you can connect Basecamp later in your account settings. Click on your avatar in the upper right corner, then on Account, and choose Integrations.
Everhour works with both versions of Basecamp v2 and v3. Everhour does not work with Basecamp desktop or mobile apps.
What's get connected
When you connect Basecamp, Everhour will sync all your to-do lists across all projects and to-dos that belong to these lists.
Sync happens periodically and automatically, so all new to-dos that you create in Basecamp will be automatically added under your Everhour account. Everhour also changes the names of to-dos or projects, if they were renamed in Basecamp.
Everhour usually syncs information every 15-30 minutes, but some rare changes (e.g. update names of to-do lists or renaming entire project) occur less frequently.  You can always force sync any existing project yourself on the Projects page.
We don't connect with archived projects. The reason is that we no longer see such project connected to Everhour, so time entries from it disappear from your Time page but remain in reports for team admins.
Browser extension and embedded timer
To see the embedded timer in your Basecamp and track time there, you need to (i) connect this account with Everhour and (ii) make sure you have our browser extension installed.
Total time and estimates label shows up on a project, list and to-do levels.
Click left to the to-do to open an edit menu and set up or change estimates.
Add time manually if you forgot to start timer.
Edit time of your past entry to correct the mistake.
At the top of the project, you can see a field with its budget.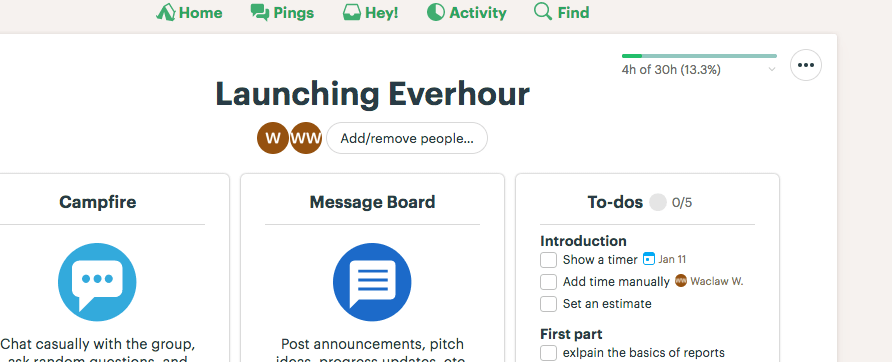 Information available in reports
Everhour allows to see the following attributes that you use in Basecamp:
Task Number

is a unique number of Basecamp to-do with a hyperlink to task details in a management tool.

Workspace

groups time by Basecamp account.

Task status

shows the actual state of your to-do (open, closed)

Iteration

shows a to-do list where a set of to-dos with reported time or estimation belongs
Disconnecting Basecamp
If you wish to disable Basecamp integration, then select Integrations and choose Connected Apps. After that click on the Disable. You will stop integration for your account, but for the rest of the team the sync will happen as usual.