Approving Time
The option of time approval allows employees to submit their timesheet for approval while an admin can evaluate teamwork and lock further time editing.
This article tells you about:
The stages of the time approval process;
Time approval for a user and for an admin;
Some additional information about this feature.
The stages of time approval
First of all, Time approval should be turned on in the team Applications. It is turned on by default for all teams, but you could turn it off if your company does not use it.
Users make a request to approve their time for a week from Time page. The submitted time cannot be edited, though members can withdraw a submission if they want to change something. When time is approved or rejected, a member receives a notification by email.
Admins should check the Team Timesheet Dashboard where they see pending approvals, accept or reject them. Another option is to discard the approval request that makes time not approved for the member to edit it.
Submit time for approval
Members should act directly from the Time page. The first step is to submit the time for approval. Mind that you can't send certain tasks or only some days, but the whole week for all tasks you worked on. Sending a request, members can add comments and choose an admin from a drop-down list of names to send their approval request by email to a certain admin.

There is no way to correct time entries after the time was sent for approval. However, a member can click on "Submitted" and withdraw the request with additional comments. This withdrawal option disappears after the time was approved or rejected, any time edits are locked. Members and Admins can also see the history log about all actions with this submission (submitted, approved, rejected) and the comments left.
When your admin approves the time on the Team timesheet, we change the week time status to Approved or Partially Approved (if a few days approved only). Please note, once approved, time cannot be changed. In case of a Partial Approval, only hours of unapproved days can be adjusted. By default, we send an email notification for the time approval or rejection. If you don't wish to receive it, then turn it off in your notifications.
When time entries were rejected, you need to resubmit the approval request after the tweaks made.
Approve or reject time
After the time was sent for approval, a team admin can open Team Timesheet and check the approval status of each member for this or earlier weeks. Initially, there are just 2 statuses. Not Approved means a member did not submit a request, Pending means the week was submitted for approval. Then an admin starts to check time day by day creating 3 more statuses: Approved, Partially, Pending. This is how all statuses look all together on a Timesheet.
An Admin can press on "Not Approved" and "Pending" to approve time in one click or go day by day marking them as approved. If one day is unchecked, we consider the week to be "Partially Approved". In case of mistake, team admin can easily discard the approval by clicking on a 3-dot-sign > "Discard Approval". Admin can also click on "Partially", leave a comment for a Member (what day to double-check, for example) and send it to a Member's email through the same screen.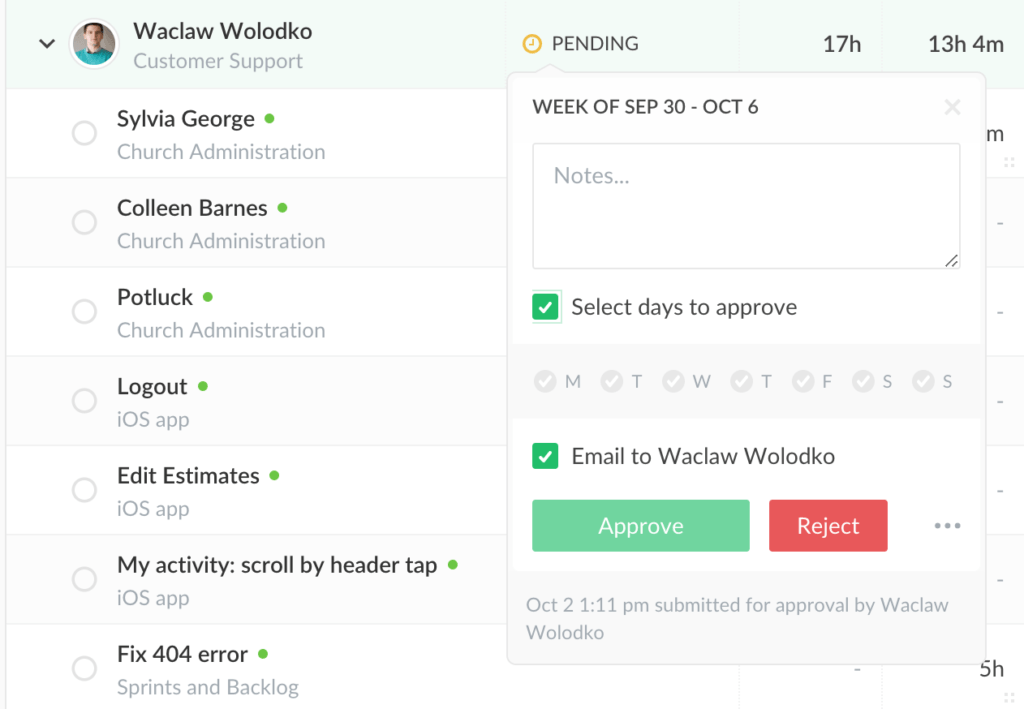 What else you should know