Task details popup shows info on a particular task you have chosen. It includes the complete history of your team time entries into this task (who and when started or stopped a timer, edited time manually, etc). This is also a place where you can edit previously reported time or estimate.
The popup consists from 2 blocks: a task overview and action buttons.
Task overview 
When you click on the task title on a Time tracking page or in reports, the popup displays the general information on a task.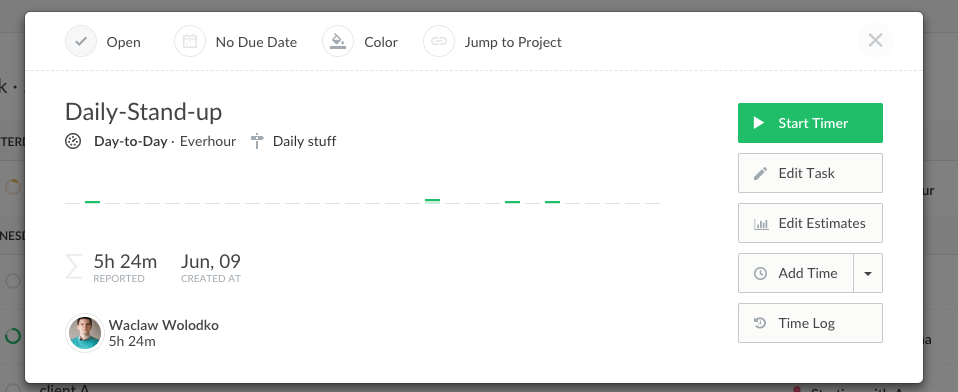 At the top, you can see the source where the task comes from (internal or 3rd party app like Asana), task id, project name, due date for internal projects and task status.
Below come the activity bar chart and some stats: the total estimate of all task contributors, their total reported time, the date of the task creation. It also displays each member who tracked time against the task with their log/estimate totals.
At the bottom, you can find tags of a task and its description (if it is internal).
Action buttons
On the right, you can find a range of buttons that allow executing several changes to a task history.
Start/stop/resume timer lets you track time against a task inside the popup.
Edit task is visible only if it is created inside Everhour Tasks. You can change the title, tags, estimates and description.
Edit estimates gives the option to change the initial estimate.
Add time gives the option to add some missed time to your total reported time. Admins can add time on behalf of other members.
Time log is the button that allows you to see the complete history of edits and entries to a task time. You can edit the time of other here as well (is your status is admin or owner).
This is possible to check the accuracy tracking into a task at the bottom of the main window.