General Notes
Resource planning is available to admins only.
You can schedule hours on working days (Mo-Fri). When you capture weekends in your period, we exclude these days from the scheduled hours.
Each member has a weekly capacity you can schedule on them (from 0 to 80). You can always decide whom to show their schedule by selecting a user and going to Schedule filter on the member page. Members see time only across projects they originally have access to.
Capacity shows if an employee is fully busy and where the overtime comes from.
There is a new project in a scheduler called Time Off, that you can't delete. It's used to plan absence and applies for full days, i.e. there is no way to say a member is unavailable for 3 hours on Monday.
The Schedule includes all active and invited members, and works on a member and project level.
We don't allow scheduling for tasks.
View by Member
Grouping by member shows their daily and weekly capacity, where the column height = weekly capacity and proportionate to daily capacity.

40h free

(no filling) means a member is free for the whole week.

Full

means a member is 100% busy (bright filling).

Off

means a member is non-available (grey color).

Xh over

shows the hours planned beyond the capacity.

Xh free

means how many hours more can be scheduled.
When you navigate a mouse on the assignment, you can see details with projects that are assigned. If you track time on planned days, you can see the actual reported time above the filling.
Add/Edit Assignment Pop-up
You can assign hours in 2 ways.
First, by clicking on Add Assignment button at the top right-hand corner. It opens a pop-up where you choose a member and assign projects with a number of hours per day or per a selected period: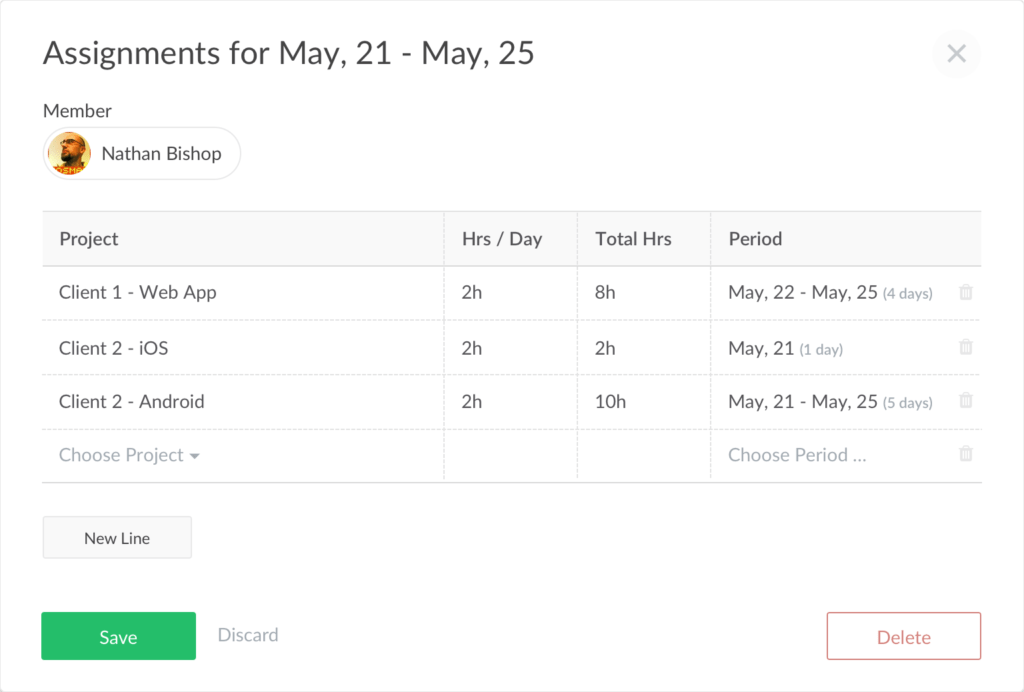 Second, capture the period with a mouse cursor:

It opens a modal window with a selected period and member, where you then select projects and add hours.
Details by Member
By expanding this block, you can see the employee assignments, edit and delete them by moving the assignment on another date or dragging the same daily capacity to other days.

View by Project
This is a similar view with an exception that you don't see capacity (in comparison with Members), so all columns have the same height.
When a member time off intertwines with a planned assignment, the day is highlighted in red (remember there is no option to make part of the day as time off).

Scheduler Settings
Share schedule with your team: go to your Account>Team Members and click on the schedule window and check make schedule available to the user.
Add other projects to the schedule: open Projects and select a project you wish to add or bulk select them, choose Schedule>turn on.