This section shows all projects that you can track time for as well as set budgets, billing status and many more.
Types of projects
We show 2 types of projects.
Projects from your external tool that you connected with Everhour. By default, we sync all active projects. There is no way to forbid some projects to show up here. You can't archive a project as well, this is what you should do in your PM tool primarily. After this, the project will dissapear from the active list.
Internal projects are projects that admins create inside Everhour. They are mainly for something that you don't want to keep in your primary project manager. You can find out more here. You can create an internal project or click on the title of the existing to open its tasks.
When you would like to pin some of the projects that you work most of the time with, click on a star label to make it favorite. Favorite projects appear under a special tab.
Filters
We see that for many companies, having 50 or 100 projects is something usual. Therefore, in order to simplify navigation, search and even reading this list, we added several useful functions.

For example, now you can group projects by teams or workspaces your integration has, which is perfect when you have several connected. Or you can group projects by a client name. Filtering helps to see projects with/without a budget, by billable/non-billable status, by integration name.

Now you can also commit actions on a group of selected projects, like set a billing status, selection of a client, setting a budget. Definitely, you can still make a force sync of projects from external tools.
Billing method
You can now see a billable status of a project next to its name. When it is non-billable, the time tracked into it is excluded from the invoice. Hit the label to quickly change the status.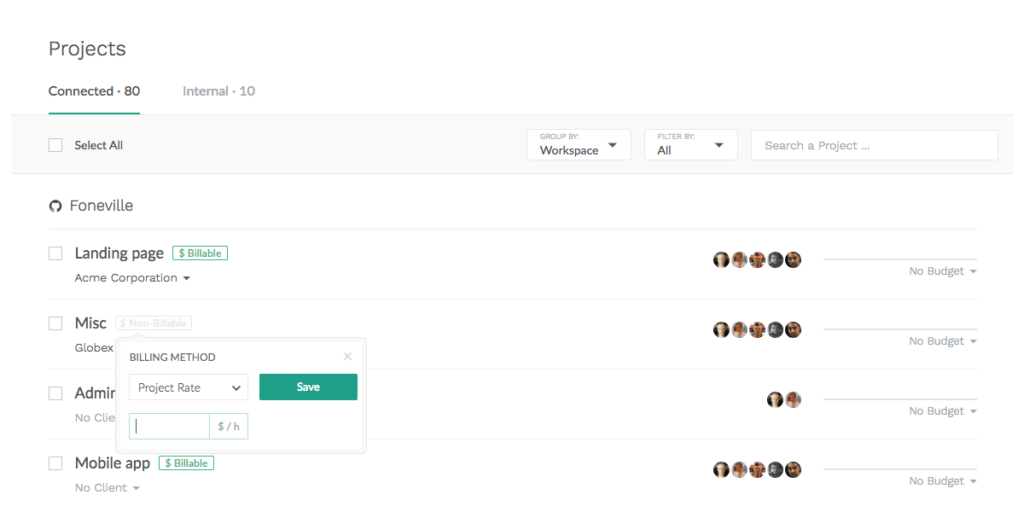 A project can have a fixed rate that applies to everybody's time. Or it can be a rate based on team member hour that you set up on your team list. However, you can set up a unique team rate for a particular project, or even set it as 0, thus making anyone non-billable to exclude from the invoice.
Under a project name, you can see the name of the client. You can click on this name to expand and select another client or create new on the fly. You can read this article to find out how to create a client.
Budgeting
You can see a budget value, which is set as a time or a sum of money (depends on what form you agreed with your client). When this is the latter, we rely on team members' rates multiplied by the time they track into a project.
This information regarding the budget is visible for admins only, ordinary members or supervisors won't see anything. Nevertheless, you can allow members see certain budgets.
You can also make your budget to recur daily, weekly or monthly. This will start over a budget at each new period. A general budget can start from a specific date.
To track progress towards your budget, you can visit this project page or through a summary emails that we send each day/week/month. Please make sure you have enabled this type of notifications in your email preferences. Another option is to set an email reminder on every budget in the pop-up window.
When you wish to set a project/client budget limit, you should first add a budget to it. After this, you will see a checkbox disallow overbudget. This kind of limit may be not tied to any period and start from a specific date. And this is possible to make it as a sum of money.
If an admin opens task details, there is a button at the top allowing to convert time into non-billable.
Additionally, you can exclude non-billable time from a budget if it is set as hours. We do this by default with budgets reflected in money, however, you may want to see progress on a budget based on all time. This is why it is an option for time budgets.
Synchronization
It takes Everhour some time to push a fresh change into your report, i.e. a label change or renamed project. When you want to see your change straightaway in reports, you need to do a force sync by selecting a project/projects and clicking on the appeared button.
Important! You should refresh your report page after you do this force sync. Otherwise, you won't see any changes. We also strongly recommend selecting all projects you need at once, despite it takes some time to sync many projects. The reason is that force sync can be successfully repeated only 5 minutes after.
Project summary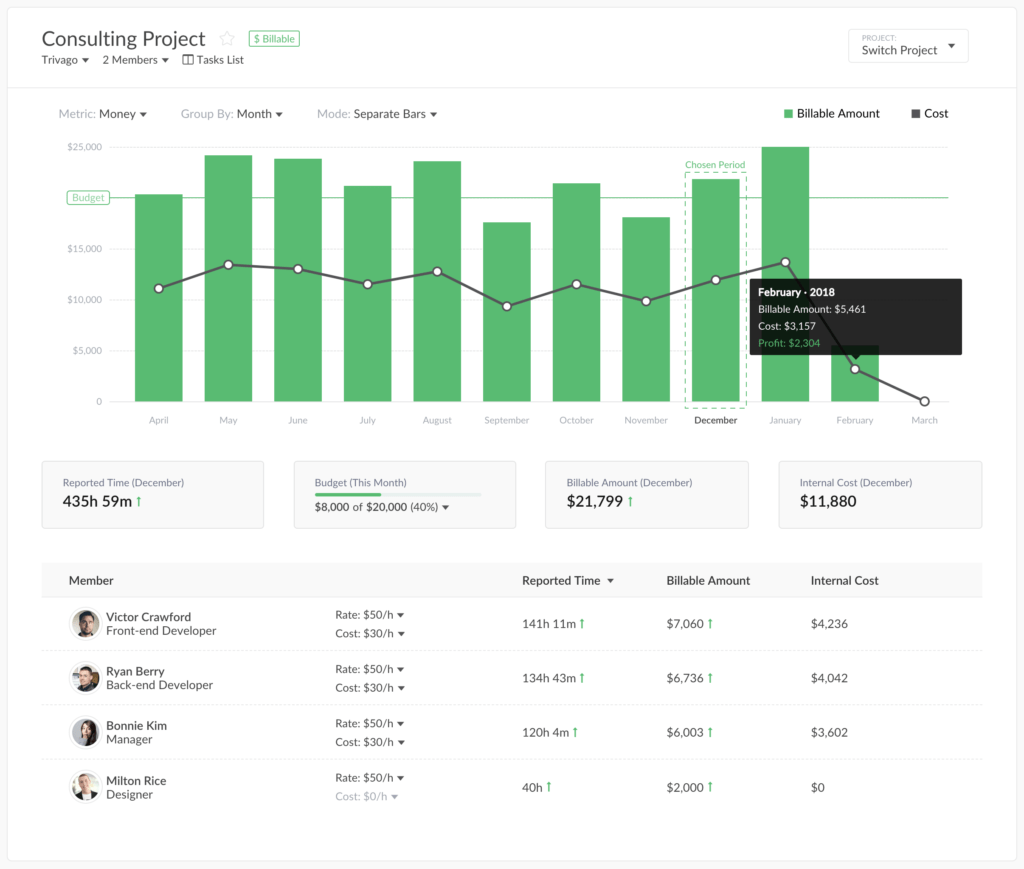 A project summary consists of 3 parts: a chart, project metrics and details by a member. Let's see how it all works. We have written an article to explain how to navigate here.