Everhour is perfectly designed to report time as a team and see how much time each teammate or a group of team members worked.
Inviting a team member
All Admins can invite new team members from the Team Members page. After that, click on the Invite members button. You can bulk invite members by email and set their team role.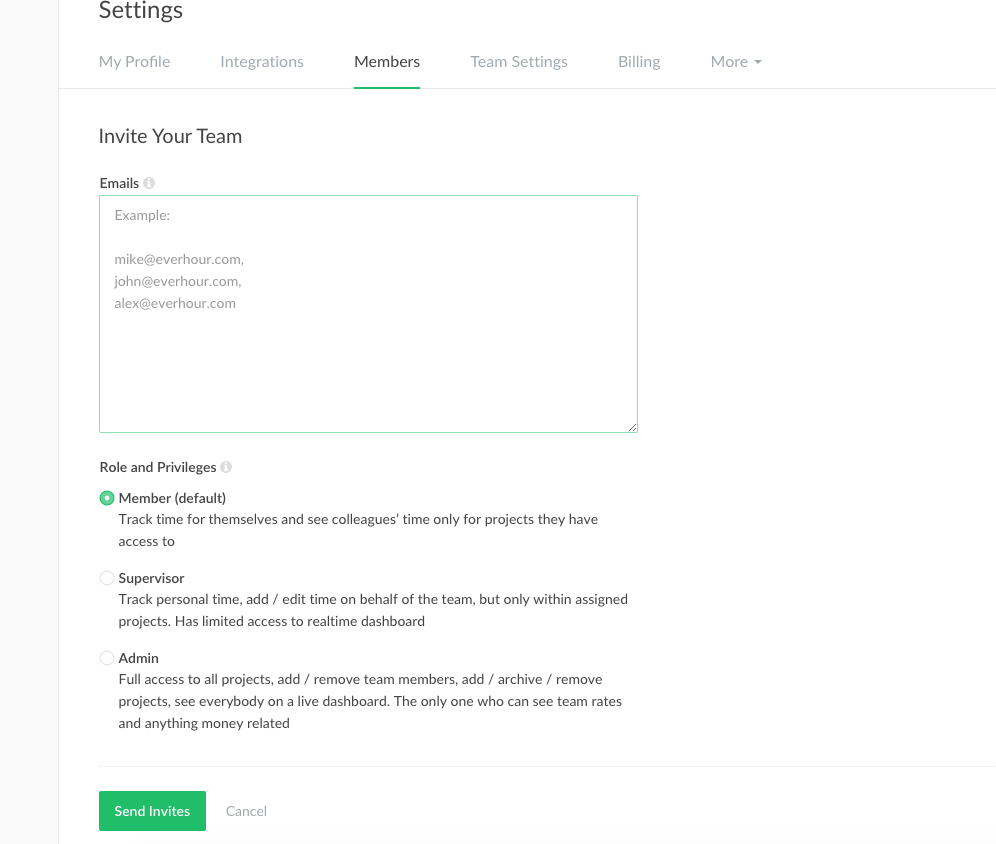 A new teammate will get an email with steps to log in.
This is not possible to change your team role yourself. You should ask team admins to do it.
Deactivating a team user
You can deactivate a team user by visiting Team Members page and clicking on Edit profile. Deactivated users can't access their account and track time, but their history of reported time remains in team reports. You don't lose their time but could find that user in your team members, groups, report filters if you need to exclude him/her to see how much others worked.
We don't delete any user completely, but deactivated users are not counted in your bill.
There is no option for a team member to leave a team on their own. If you no longer work at a company, you should ask your account admins to deactivate your profile. If you wish to use the profile email to join another account, please contact us.
Team Roles
Each teammate in Everhour has a role that defines permissions within the account and what type of info they could see. Currently, there are 5 roles:
Owner – does everything that an admin can do +  access the billing page, unsubscribe and delete the team account;
Admin – can make reports for any projects, invite new members or remove existing, add time on behalf of other members. They can create and manage internal projects, update team rates and project budgets/generate invoices, create clients, see everybody on dashboards;
Supervisor – make reports and edit time in them for projects they only have access to, limited access to dashboard (only for activities in projects they have access to);
Member – can only track time for projects they are assigned to and only see data for projects they have access to. They can edit only their time;
Members with Limited Access –  can see only their own time and estimates on UI of their project management tool and in reports.
This is important to know that you can't switch the ownership of your account. Please contact us if you would like to make another user an owner.
Member profile
You can open a Member profile almost on any Everhour page where you see a member's avatar or a name. We will open the summary page with the last week period by default.
Header displays the name, user role and the job title of your member. Click on it to open a menu for edits. On the right, you can see the total reported time for the selected period and a how much of it is billable. This is possible to set a user budget and limit time tracking over that budget.
Daily Totals is a widget to see how much a member worked at a glance. Admins can use this table to edit or add time for others.
Time by Project shows hours split between projects, as well as what is billable and what is not.
Top Tasks is a display of 15 most time-consuming tasks, i.e. what a member worked most often.
Detailed history is a combination of a Top task page and a Time page functionality that shows task time entries by day and by week. What's more, it shows the comments if a member made them to a time entry.
Team Groups
Split large teams into user groups for easier management.
Choose necessary segments for creating and sharing reports. Also convenient, if you want to know how much time each group spent on a project on the whole.
You can also assign internal projects to the whole group, not individually.