Create an invoice
To create an invoice, select a client, period and project (all uninvoiced time up to this moment or a manually selected date range). Or create a free-form invoice to fill it in on the fly.
The form allows you to make some edits.
You can change the selected period right inside the invoice draft. Just don't forget to save.
This is also mandatory if somebody edited what they did while you had created an invoice prior to that. The invoice won't update data automatically, you need to do this on your end manually.
We enumerate your invoices starting from 1, however, you are free to change it to whatever you wish.
When you create an invoice, we set an issue date, but you can change it anytime.
Due date is not a mandatory field. We set it by default adding X days from your Invoice settings to the day you have created your invoice.
Default Item Template
It groups the invoice data in a certain order.
You can group it by default option or make it a custom group by using special Meta tags %Name%, that will be replaced with a real data in the invoice.
The list of these Meta tags is the following:
%Project_Name% → the name of your project "Sample Project 1".
%Member_Name% → the name of the team member "John Smith".
%Period% → the time range of reported hours "Feb, 01 – Feb, 31".
%Task_Title% → the name of the task done "Team Meeting".
%Week_Number% → the number of the week "Week #41".
%Team_Group% → the name of the group in Everhour "Designers".
%Iteration/Section% → the name of project sections "Pre-release".
%Tag/Label% → tags you have for tasks "#Billable".
%Date% → displays the exact date.
You can use multiple tags, as well as add your free text notes here or right inside of the draft invoice. For example:
"Software Development, Project: "%PROJECT_NAME%", v4.7.4, %Week_Number% (%PERIOD%)"
In the invoice, it transforms into the following:
"Software Development, Project: "Sample Project 1″, v4.7.4, Week #31 (Feb, 01 – Feb, 07)"
The number of line items depends on the reported time and settings you applied to a client.
You can delete a line item. The time will be considered non-billable and get to the next invoice when you select all uninvoiced time or include this time period.
Invoice Preview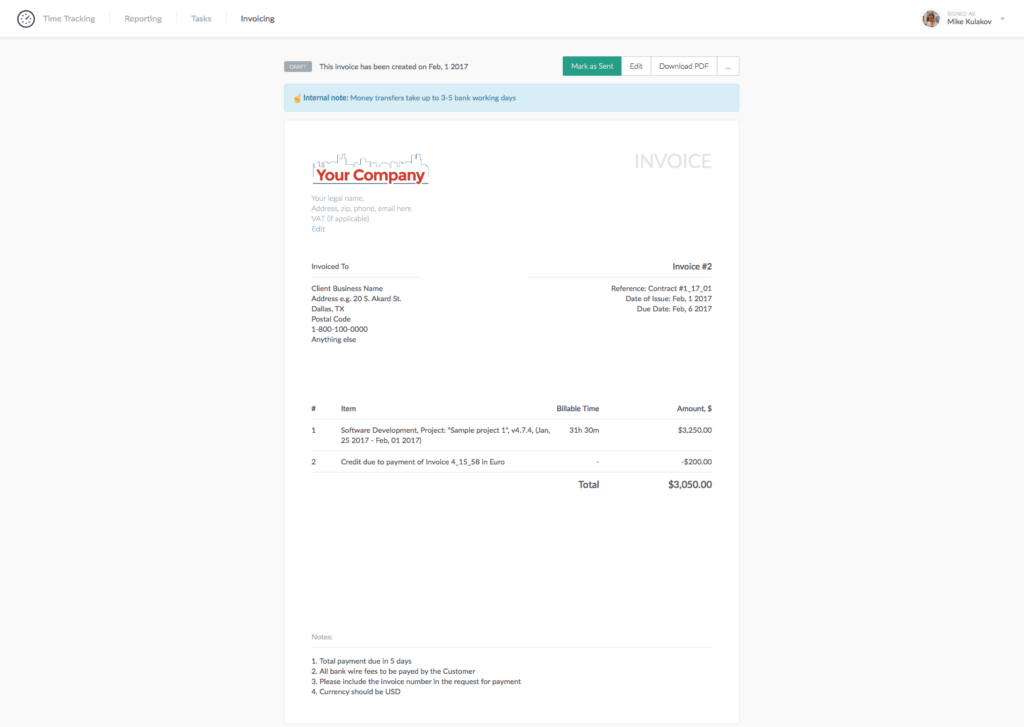 The page allows making the final check of your future invoice. And edit it, download a PDF file or mark an invoice as Sent or Paid (to do manually at this moment).
By the way, when you click on any subject line in your Draft invoice, you can see that this is easy to change the title. This is a solution for those, who want to make an invoice in their own language. We have covered on this closely in one of our blog posts.
You can change the Draft invoice. But if you change Sent or Paid invoices, we push it back to Draft. Nevertheless, private notes above might be modified without changing the invoice status.
You can't change the date when the invoice was created or sent, but you can change the date of payment.
All invoices can be sent to Xero, Freshbooks or Quickbooks.