Schedule resources
Reasons to use schedule
An essential part of time tracking is to plan the work of your team in advance and know what they should work on now and in the future. We offer to do that in our Schedule tab. It helps to stay on track for weeks ahead.
The aim of the tool is to plan hours on a project level against weekly capacity a member has. It allows seeing what projects they should work and how many hours to dedicate to each project. A manager also sees if a team member is free to start working on another project.
Another reason to use schedule is to put the absence hours of your team to exclude it from general member capacity and have a more precise understanding of available time a user has.
How to start scheduling hours
Admins can add a client, as well as projects and members by heading to the very right of your page and clicking on the gear icon. Another place for this is located on the Applications page when you open your Everhour account.
Other filters in this corner let you select particular projects, clients, members, show or hide empty rows with no assignments. The button to create an assignment is a green plus sign.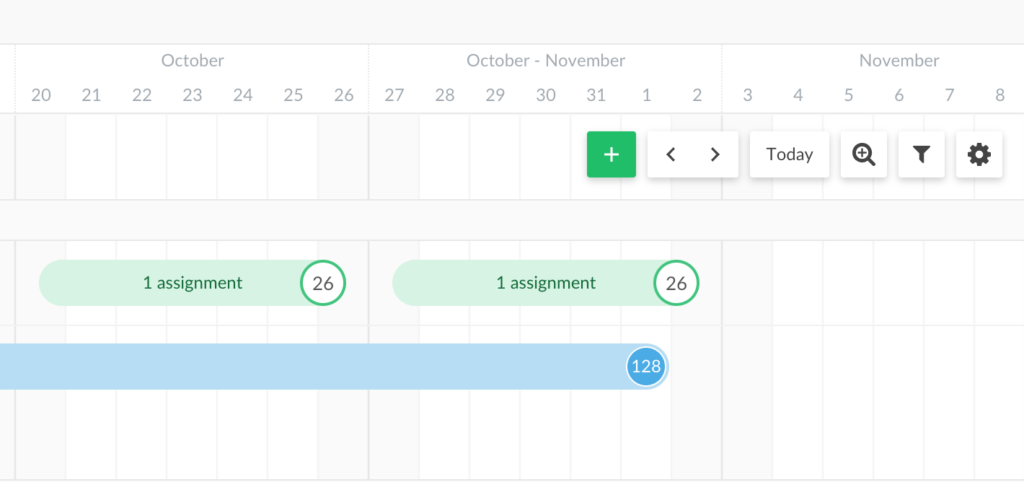 The next step is to add a weekly capacity (from 0h to 80h) on the Members page. Capacity allows you to compare planned hours and what is your real capability to spend.
Schedule permissions
Only admins can see Schedule page at first, but they can grant access to non-admins by clicking the "gear" icon on the upper right corner.
Users could receive the following type of schedule access: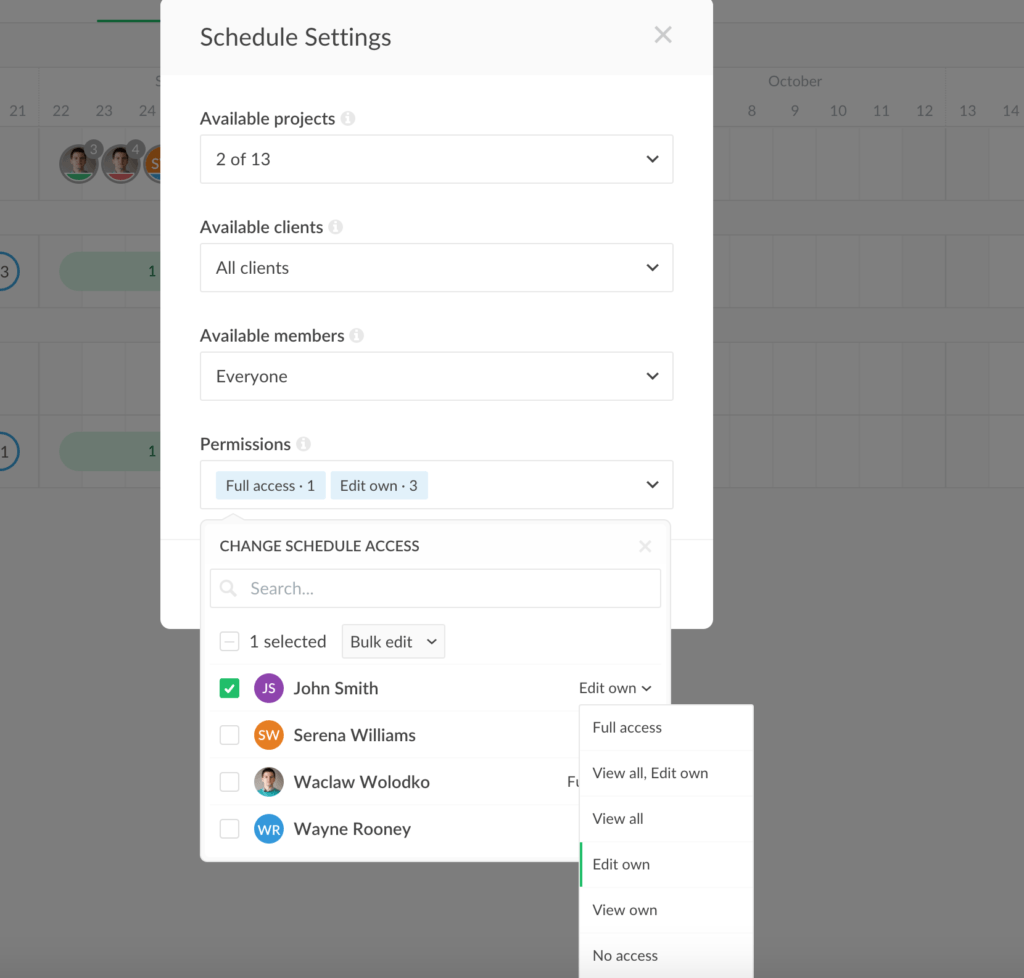 Full access - superpower to change and see every assignment.
View all, edit own - no ability to change others' assignments.
View all - a limitation to change what planned on other teammates.
Edit own - a user can see, create and edit personal assignments.
View own - a user can see, but not to create and change personal assignments.
No access - Schedule is invisible for a user.
Creating an Assignment
You can create an assignment by clicking on the green plus button in the upper right-hand corner or capture a period on the user/project/client calendar. An assignment is a number of hours per selected period for a member should spend on a project.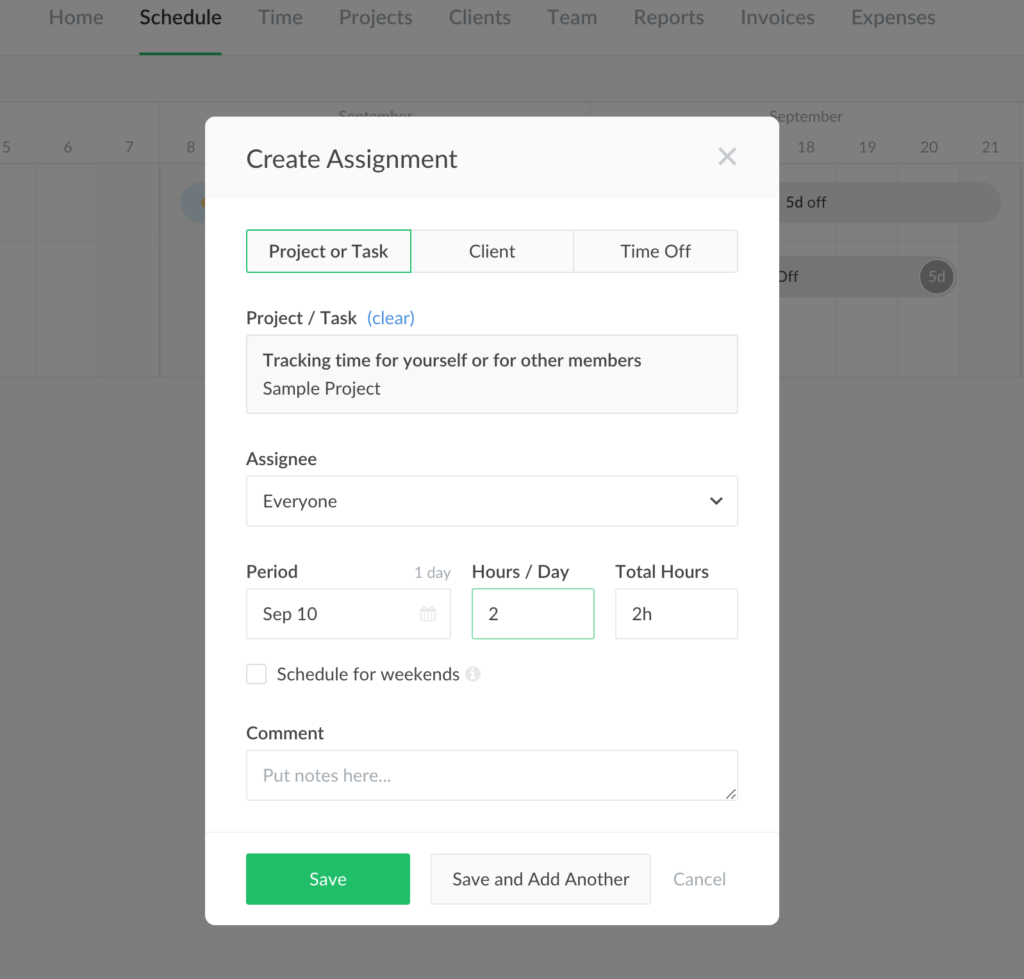 You still need to fill in the period and total hours or hours per day field. It's not mandatory to select a member or project to let you create an assignment. You can first make an assignment and then allocate the right person to work on it. And you can comment on your assignment to leave a meaningful context.
There is a checkbox to turn on scheduling on weekends, which may become a tremendous perk for all freelancers, employees with flexible working hours or working from areas where Saturday and Sunday are not considered as weekends.
Displaying Assignments
The assignment blocks are rich in colors to let you better understand what period you make them for.
Past and current week's color summary assignments in blue, next weeks are green.
The expanded member assignment view plays with colors further, there are 8 colors for different types of assignment in total.

The assignment summary for this and past weeks shows the planned time on the right, reported time in the middle and progress bar on the left. If you plan more than in your capacity, the circle with planned hours for the week becomes red.

You can see the details, such as the title of the assignment, who is the assignee, the period of planned time and actual reported time by expanding and hovering on the assignment. If this is a project view, you can see the forecast for every user, but the reported time shows you the total.

What else you should know
This is not possible to see task estimates that you make for your team. Assignments are manually created and have no connection to a task estimate;
We do not show a project budget on this page;
Supervisors and Members can schedule hours only for projects they have access to. They also don't see assignments created in other projects.